May 10th at the National Military Museum
OK, if you're interested in history, you might like this.

First, a brief explanation:

I spent this Sunday at the National Military Museum in Bucharest with my brother and a few friends, the reason being that there were a number of festivities planned to celebrate the 'museum days', which is something that's been happening during one weekend in May for some ten years now.

The interesting thing is that this year, the weekend happened to coincide with May 10th. May 10th is no longer considered an 'official' holiday in Romania, but a lot of important things happened on this date that are related to Romania's independence and modern history: On May 10, 1866, Carol I of Hohenzollern-Sigmaringen arrived in Bucharest and swore the oath of office in Parliament (the story of how we got ourselves a German/Prussian king is a bit funny and quite exciting, but it's long, so I won't go into it unless you're interested) On May 10, 1877, after parliamentary deliberations the previous day, Carol I proclaimed Romania's independence. Finally, on May 10, 1881, Romania was proclaimed kingdom and Carol I was crowned as the first Romanian King.

So the whole event was a bit more special. You'll see

Now onto the pictures: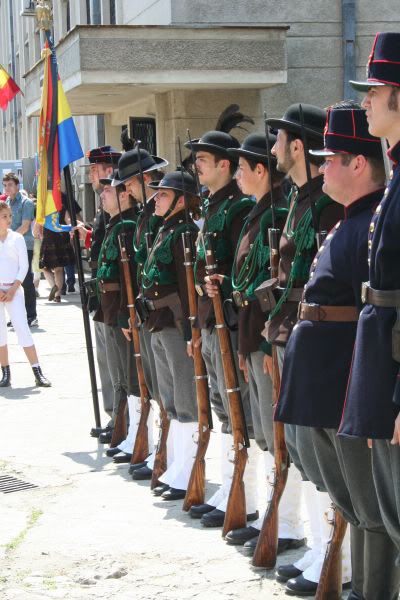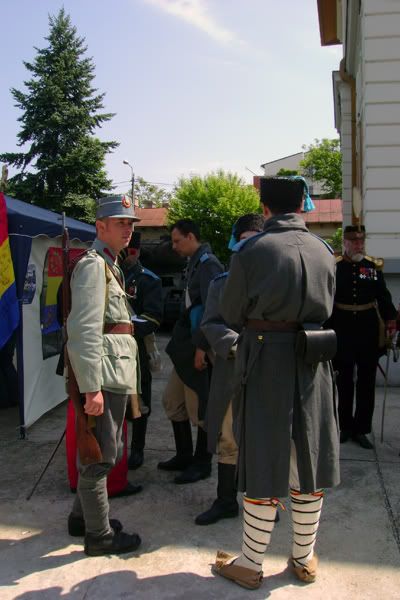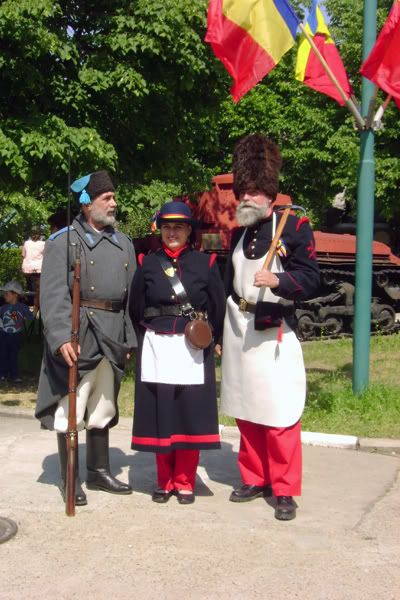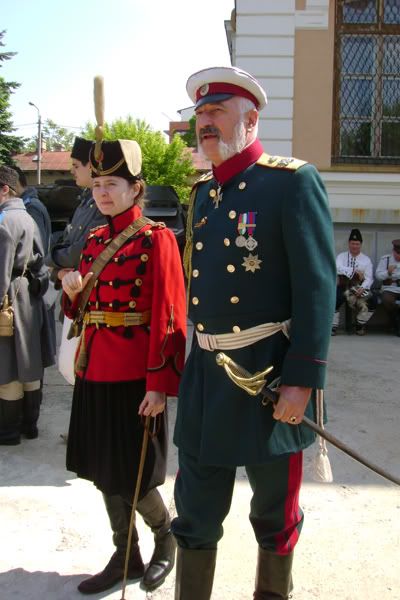 Various period uniforms, most of them from the Romanian War of Independence in 1877-1878. The woman you're seeing in the last picture is supposed to be the Queen Elizabeth I (king Carol I's spouse) She's wearing a uniform that belongs to a traditional Romanian army corps called 'Rosiori' (no actual translation, but it means something along the lines of 'Little Reds', as the uniform's colour suggests. Of course, it's slightly modified to fit a woman - there was no skirt in the original uniform. And Elizabeth's uniform was honorary. To my knowledge, she held no military rank)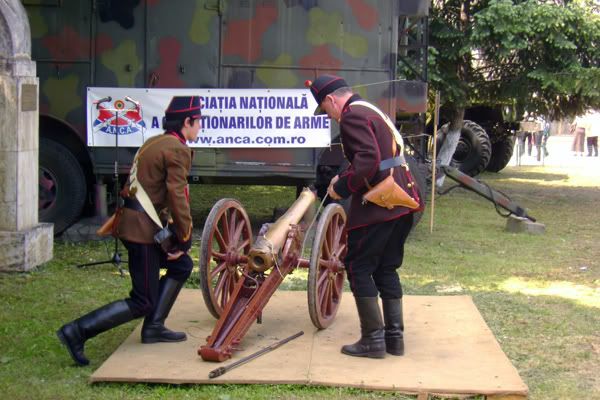 A cannon shooting demonstration, which is something I never want to experience again from a distance of 3 meters. That's an actual functional cannon from 1877, with a very strange aiming mechanism. Of course, no one warned us not to stand so close, and the consequence was that I spent about 20 minutes afterwards being effectively deaf. I learned something interesting on this occasion though - you're supposed to hold your mouth open and not cover your ears when standing next to a firing cannon, or anti-aerial battery or whatever. Otherwise the air pressure can really cause you some cranial damage.

The general conclusion is that war is very, very loud.

Now some things from inside the museum: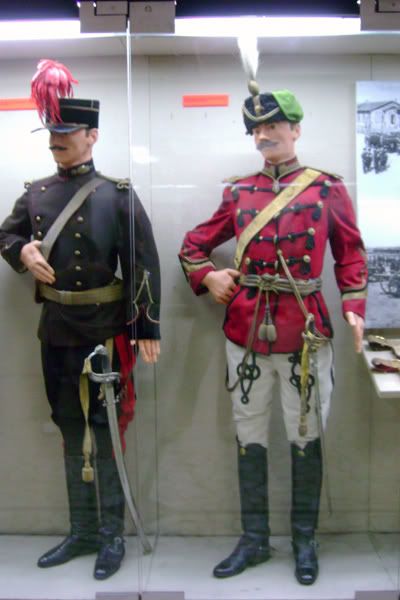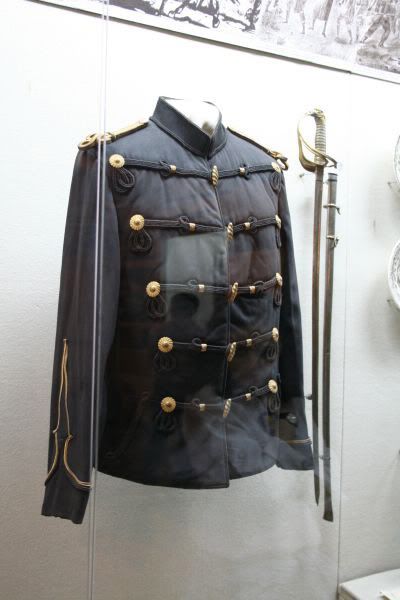 An unmodified Rosiori uniform on the left, and another, very peculiar one in the other picture. Apparently it was also from the 19th century, but with all my interest in history, I've never seen it anywhere before. It's incredibly elegant though.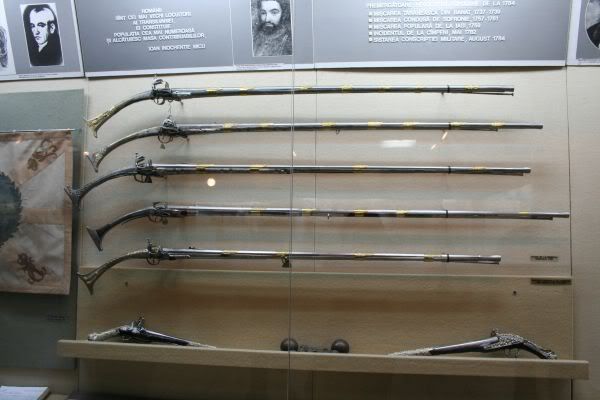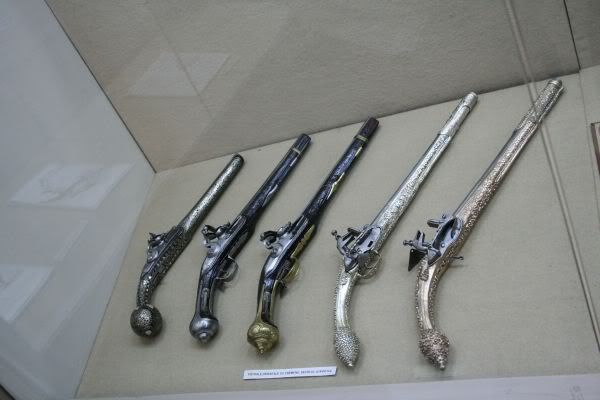 18th century guns and pistols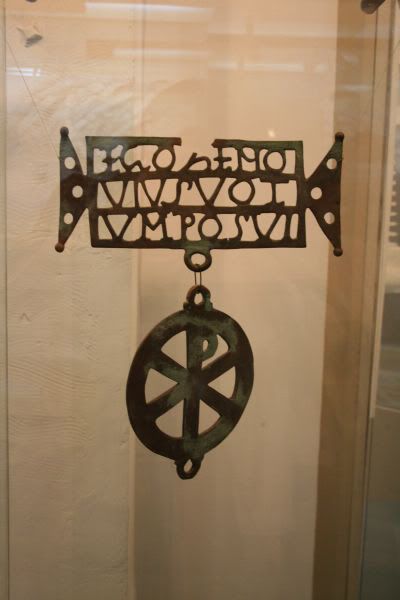 Now that odd thing in the right-hand picture is quite famous. It's called the Biertan donarium and it comes from the 4th century AD. First, it's important because it's one of the first written texts found on modern-day Romania's territory, and it's in Latin (It says, 'Ego Zenovius votum posui' - 'I, Zenovius, have offered this gift'). Secondly, because it contains a Christian monogram, so it's considered a proof of early Christianity in Romania.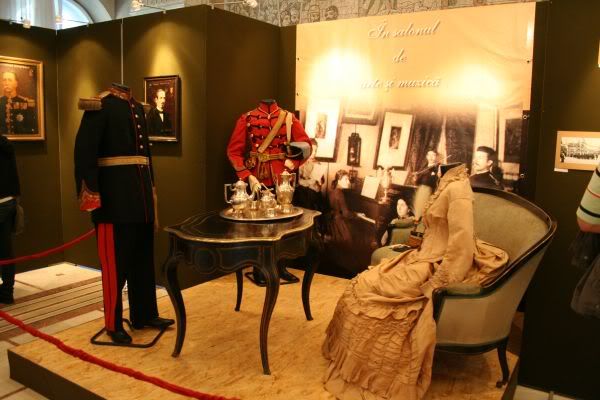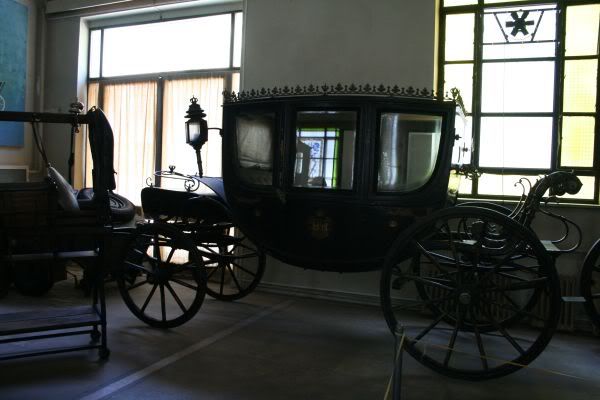 A royal carriage in the picture on the right. When Carol of Hohenzollern-Sigmaringen first arrived in Romania, he traveled by train until he reached the Romanian-Hungarian border, and then was picked up by an official delegation who escorted him to Bucharest in a carriage, because there were no railways in Romania in 1866. Carol was sort of appalled and decided to build a fully functional railway system throughout the country.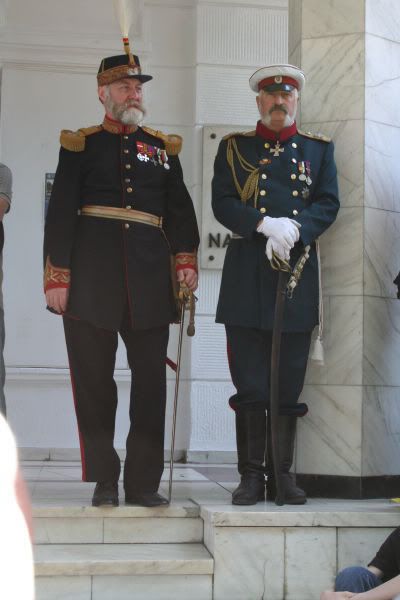 And this was probably the biggest surprise we had throughout the event. They had someone play king Carol I (on the left) and actually re-enact a military inspection, field maneuvers and an official discourse. He was very good, so I wonder if perhaps he was an actor or something. The physical similarity is also quite striking.

There was also a military orchestra (called the Guard Battalion), but that part was filmed by Andrei on his cell phone so I'll have to download it first, but it was great.

Sorry for the long post. I hope I haven't bored you.